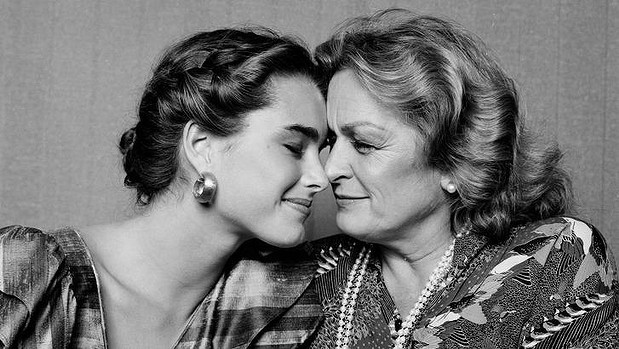 A few months after her mother died, Brooke Shields bought a beach house in the Hamptons. In a strange and tragic tribute, she spent three days decorating it with her mother's most cherished possessions. Teri Shields had kept a storage shed the size of aircraft hangar, jammed with furniture, antiques, art, Hollywood memorabilia, designer handbags (real and fake), tools, bikes, jewellery and toys, for fantasy homes she never bought.
As soon as the decorating was done, Shields realised she had made a mistake. "Suddenly, I hated it," she writes in her new memoir, There Was a Little Girl. "I hated the old-fashioned style, I hated the smell. I hated her hoarding it and us waiting and waiting for a dream house and a place in which we would be happy and at peace with one another."
The next day, Brooke sold everything to an antique dealer. "I had needed to go through the entire process," she writes. "Cleaning out the storage space, seeing everything that was there, placing it all in our new home, paying tribute to what my mom and I had collected and the path it had taken and then being done with it. It was a liberating process and a telling one."
Brooke Shields' memoir centres on the complex relationship between her and her mother, who died from dementia-related illness in late 2012, aged 79. At the heart of the story is Teri's alcoholism. Apart from a short stint in a rehabilitation centre, which Brooke engineered when she was a teenager, Teri never sought help nor admitted that she had a drinking problem. Yet Brooke describes alcohol as the "third person" in their relationship. "Anybody who lives with an addict knows that there is damage done all around," she says.
As a child, she became familiar with her mother's glassy eyes and dry lips when she came to pick her up from school. When Brooke came home to find their apartment empty, she would go looking for her mother at her favourite bar.
"I was preoccupied with her drinking," Brooke says. "I understood I needed to take care of her. She was my life source and it made me be less concerned about myself and therefore less confident. I was always trying to anticipate situations and be ahead of the game. It took away the ability for me to ever really relax."
"I was preoccupied with her drinking. I understood I needed to take care of her. She was my life source and it made me be less concerned about myself and therefore less confident."
Brooke had no plans to write another memoir. In 1985 she published her autobiography, On Your Own, and in 2006, she wrote a best-selling memoir about her battle with postnatal depression, Down Came the Rain.
When her mother died, she penned a brief obituary for The New York Times. A subsequent unflattering article published by the newspaper painted Teri as a desperate single mother who pushed her daughter into modelling and allowed her to be cast as a child prostitute in the movie Pretty Baby when she was just 12.
Brooke wanted to set the record straight. She also wanted to explore the complex relationship between mothers and their daughters. "My life always existed somehow in relation to hers," she writes. "She was at the apex of it all. Nearly everything I did was for her, in response to her, because of her, or in spite of her. I was either emulating her or trying to define my independence from her. I was either trying to escape from her or crash into her."
The only child of a single mother, Brooke's life was intertwined with her mother's from the beginning. But Teri was also Brooke's manager – setting her on an inescapable trajectory when she signed her up for an Ivory soap ad when she was 11 months old.
The money started rolling in, but every job was tainted with controversy. Pretty Baby was rated R in Australia and banned in Canada, sparking claims of exploitation. The still images from the movie, which depicted the 12-year-old Brooke naked and in a seductive pose, caused outrage. R-rated roles in The Blue Lagoon and Franco Zeffirelli's Endless Love followed, and the critics called Teri's judgement into question. The catcalling continued when Brooke, at 15, starred in a series of provocative ads for Calvin Klein jeans. "Nothing comes between me and my Calvins," she purred.
Shields says she never felt exploited as a child. Both she and her mother believed they were creating art. And neither of them caught the double entendre in the Calvin Klein slogan until it was too late. In response to the criticism, Teri would ask her daughter if she was proud of her work. When Brooke nodded, Teri would say: "F… 'em if they can't handle it."
But in 1981, a New York Supreme Court justice took it upon himself to give Teri a lecture. Justice Edward Greenfield dismissed a lawsuit filed by Teri and Brooke over Playboy photographs that were taken of Brooke when she was 10, with Teri's permission. The judge accused Teri of trying to be "maternally protective but exploitative at the same time" and of "living for her child, but also living through her". He added, "She cannot have it both ways."
Brooke is adamant she would not allow her own daughters – Rowan, 11 and Grier, 8 – to be photographed naked or even topless. "It was a different time," she says. She will also not allow them to watch The Blue Lagoon. "Too weird."
Brooke's own charge against her mother is far simpler: she did not provide a steady hand on the rudder. Teri was no pushy stage mother. But she gave her daughter little guidance.
Even from its earliest days, Brooke Shields's career was a mismatch of high art and low rent. She did ads for dolls and snack foods, she did fashion shoots, she spruiked for a weight-loss company in Japan. She won a role in Woody Allen's Annie Hall but her work ended up on the cutting-room floor. There were "creepy producers and shitty directors on independent films where my name procured the finances", she writes.
She had an opportunity to sign with a top Hollywood agent but her mother vetoed it, effectively torpedoing her chances of a respected film career. Brooke says her mother, who grew up in working-class Newark, New Jersey, was motivated by the need to provide a lifestyle for herself and her daughter.
"There was no focus on creating a body of work," Brooke says. "It was a haphazard way of approaching a career. Usually you think, 'I'm going to find the people who are excellent and take my cues from them.' And that was something she never did. She didn't believe anyone knew better than she did for her baby girl."
"There was no focus on creating a body of work. It was a haphazard way of approaching a career."
Alcohol made things worse. When Teri was sozzled, she went AWOL, leaving her young daughter with neighbours or friends – and, later, home alone – while she hit the town. Wine and spirits were her poison. By the time Brooke was in her 20s, her mother was either binge-drinking or maintaining a constant low hum of drunkenness throughout every day.
On the set of The Blue Lagoon in Fiji, Teri found eager drinking companions in the mostly Australian crew. "The Aussies knew how to party, so my mom fit right in," Brooke writes.
Despite the drinking, 14-year-old Brooke was able to relax during filming, as the confined set on Turtle Island meant she didn't have to worry about her mother constantly disappearing. She swam, cracked open coconuts, drank kava and alternately flirted and fought with her co-star, Christopher Atkins.
But the anxiety resurfaced as soon as they wrapped filming. "We took off for the mainland," she writes. "Dread began creeping back into my stomach. Without the containment of the island and the protection of the crew, I would be alone with her alcoholism yet again. Mom and I had been in somewhat of an unrealistic bubble in the middle of nowhere but once back in New York City she would be on the loose again … I was going back to square one in the battle to survive my mother's disease."
Brooke ticks off a list of important events marred by her mother's drinking over the years: her first marriage to tennis champion Andre Agassi; her second marriage to writer and TV producer Chris Henchy; the birth of her first child. Brooke had hoped that grandchildren might slow her mother's drinking, but by her 70s, Teri had begun a slow decline into dementia. Her daughter, who had always believed her mother's liver would give up first, was devastated.
"It was shocking and nothing could have prepared me for it," she says, still clearly traumatised by the experience. "The person literally disappears. They are there in front of you and you can't reach them. And there was absolutely nothing I could do."
"The person literally disappears. They are there in front of you and you can't reach them. And there was absolutely nothing I could do."
It is a great irony that behind one of the most famous faces of a generation – the 1980s pin-up girl for sex – was a young woman who was strait-laced and studious. She avoided drugs and alcohol and lost her virginity to her long-term boyfriend, Superman actor Dean Cain, at 22.
The book is full of delightful anecdotes detailing where Teri drew the line. She insisted Brooke have a body double in The Blue Lagoon (Australian diver and shark expert Valerie Taylor, then aged 30). She also refused to allow her daughter's hair to be dyed black for the 1978 film King of the Gypsies. School came first, work second. So when Brooke won a place at Princeton University, it was with her mother's blessing. She graduated with honours in French literature.
When we speak, Brooke has just got off the phone to her former college roommate. She recently went away with her best friend from high school. When I ask what she is proudest of in her life, she points to these relationships. "Those are 30-year long friendships and they sustain me," she says. "I'm proud that I didn't become a statistic, that I got a degree and really embraced my university years. I have a really good husband and a healthy existence and it might not have gone that way."
Brooke adores being a mother, too. Both daughters Rowan and Grier were conceived via IVF and she savours every moment of being with them. She is teaching them their grandmother's sense of fun and good manners. "I'm proud that when my kids go on play-dates, the other mother calls me and says, 'Your daughter cleared the table and said please and thank you and she can come back whenever she wants,' " she says.
"The biggest difference is, my children don't have to take care of me. They're not preoccupied with my well-being and they're confident in their own selves. My mom thought she was nurturing me but she didn't; I wasn't able to find faith in my own hypotheses. My kids have very strong opinions, much to my chagrin."
"The biggest difference is, my children don't have to take care of me. They're not preoccupied with my well-being and they're confident in their own selves."
At 49, Brooke is still heart-stoppingly beautiful. Although a stellar film career eluded her, in the 1990s she found success with the comic television series Suddenly Susan and has had major roles on Broadway – Grease, The Addams Family, Cabaret and Chicago. But she remains best known for The Blue Lagoon. And she's still doing ads – for toothpaste, milk, fertility treatment and a limited-edition lipstick for MAC cosmetics. "I gotta put my kids through school," she protested to UK talk-show host Graham Norton in 2010.
"Nice school," Norton retorted.
She says now, "On the one hand, I have this vision of myself as a certain type of film actress. On the flip side, I'm so proud of how eclectic my career is. Whatever the task, I can attack it and I will succeed to the best of my ability. If I hadn't been forced to be so eclectic growing up, I'm not sure what sort of longevity I would have had."
Brooke counts herself lucky that her life was not subsumed by addiction, like so many other child stars. She says good therapy and an obsession with healthy living channelled her type-A personality into productivity. "Over the years, I've gotten better at going with the flow," she says. "I've learned to be silly with my kids and teach them that it's okay to make mistakes, because that's when they learn."
It's true that Brooke is a survivor. To put things in perspective, her Endless Love co-star Martin Hewitt runs a home-inspection business in California and The Blue Lagoon's Chris Atkins owns an outdoor equipment store. Suddenly Susan was crucial – it gave her an identity separate from her mother. So, too, her marriage to Agassi, who encouraged her to take control of her own business and financial affairs. The professional split from her mother fractured their relationship, but ultimately set Brooke free.
"There is a lot to be said for honesty but it's hard to do while they're alive," she says. "I tried at times and I'd think I could do it, and within five seconds I'd be unable to have a conversation because my blood pressure would rise. You have to keep doing your best."
I wonder aloud if Teri's death has yet to sink in. Whether writing the book raised more questions than it answered. And how Brooke will put the pieces back together.
"I think it's not going to catch up with me for a while," she agrees. "I thought I knew her better and it was only in delving very deeply into our relationship that I realised all the contradictions. I've been writing about her and talking about her, and to a certain extent she is still part of my every day. When all the book stuff dies down, I anticipate that will be the beginning."
This story originally appeared in The Sun-Herald's Sunday Life magazine on 2 December, 2015. You can read the story online here.
Photo: Getty Images