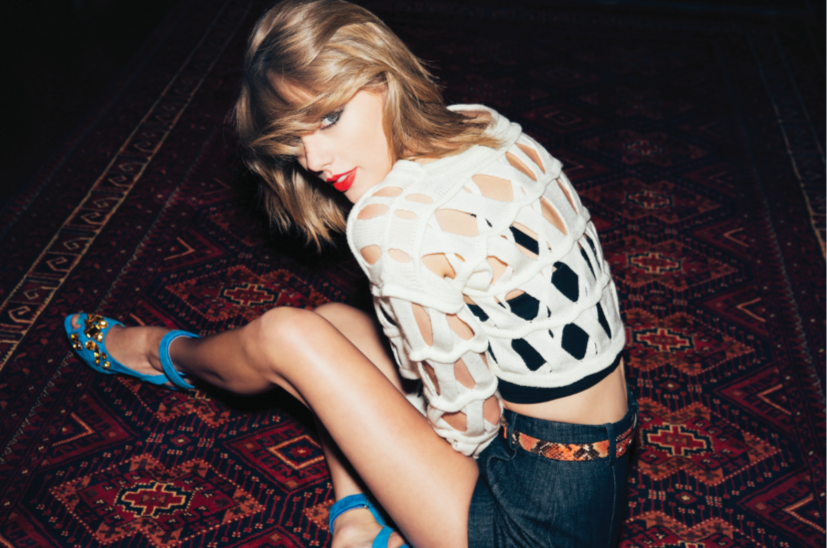 Taylor Swift shakes my hand, then shakes it again. She grimaces and mimics a girlie handshake, her hand like a delicate cat's paw with plum-coloured nails. "I didn't get that quite right," she says, apologetically. "I don't want you to think I can't shake hands properly."
The American singer-songwriter might have 45 million Twitter followers, 80 million digital single downloads and a back catalogue of famous ex-boyfriends. But Taylor Swift is like most 24-year-olds. She still cares what people think.
Swift is in Australia to promote her fifth album, 1989. She arrives for our interview, at Universal Music's Sydney studio, looking slightly skittish. She's dressed in red brogue-style ankle boots – a nod to her country credentials – and a crisp white Camilla and Marc mini that shows off her legs.
At 178 centimetres, she towers over the security guards who flank her. A crack team of stylists follow her full-time, though her bobbed blonde hair, cat's-eye make-up and full, strawberry lips are all perfect. Her hairdresser, make-up artist and wardrobe stylist check their charge, then fall away, loitering in an anteroom until they are needed again.
An efficient publicist, also in Swift's full-time employ, hovers while I sign a non-disclosure agreement which has a $US2 million penalty for violation, then unfurls earbuds and picks up an iPhone like they are the keys to heaven. It's seven days, eight hours, 16 minutes and six seconds until the new album drops. No one is taking any chances.
1989 is pure pop. Its bubblegum lyrics are still stuck in my head and I find myself watching Swift's Shake It Off clip more times than is necessary. Even before the single has gone cold, there are YouTube parodies, snide remarks about twerking and all the predictable nastiness about how Swift's goofy all-American sweetheart schtick is wearing as thin as her voice.
Swift has the last laugh. She writes it all down, puts it to a sugary pop beat, then takes it to the bank. "I shake it off, I shake it off," she sings. She's been in the Forbes Celebrity 100 list since 2009, coming in at No. 18 with annual earnings of $US64 million in 2014.
She owns homes in Nashville, Rhode Island, Beverly Hills and New York: she bought a Tribeca penthouse from New Zealand director Peter Jackson for a reported $US15 million in April, then dropped another $US5 million on the apartment next door for her round-the-clock security team.
For my money, I miss Swift's jaunty banjo and spangled guitar, her sundresses and cowboy boots, and the plucky teen who, at 14, convinced her parents to move to Nashville so she could follow the path of her idols Faith Hill and Shania Twain. After school, her mother would drive her around town, waiting in the car while her daughter dropped off demos. She was the youngest songwriter to be hired by Sony and squeezed in songwriting apprenticeships between school and homework. But Taylor Swift was only ever going in one direction. Pop.
"It's totally a pop album," she says of 1989. "I don't think it's surprised people that I made a pop album. But it's surprised people that I was very honest about it. The greatest mistake you can ever make is to assume that fans aren't smarter than you. It would be exploitative and disingenuous to make a pop album and call it country."
In a room full of plush chairs and sofas, Swift has chosen a hard stool at a high table for our interview. "So I can't lie," she smiles sweetly. Between questions, she fixes me with steely blue eyes. It's a confessional of sorts, except that I'm under strict instructions not to ask about her relationships. Which is ironic, given that it is Swift's songwriting that has laid her love life bare.
Since 2008, she has dated pop-rocker Joe Jonas, Twilight actor Taylor Lautner, singer-songwriter John Mayer, actor Jake Gyllenhaal, political heir Conor Kennedy and One Direction singer Harry Styles. Every relationship, every malicious headline, is fodder for her songs. Which, in turn, makes her personal life blogger clickbait. In 2012, talk-show host Ellen DeGeneres put a series of photos on a big screen and made Swift ring a bell each time she saw a man she had dated. As Swift told Rolling Stone magazine: "I feel like watching my dating life has become a bit of a national pastime."
She tells me, "I could make music that's catchy and has not a shred of personal information in it. But that wouldn't feel honest and my fans wouldn't connect to it." Later she adds, "It's like these people have been reading my diaries since I was 16. I spend two years making an album, so I mean it to be meaningful and an accurate representation of my life.
"Artists gain celebrity and lose perspective. They gain fame and they lose a sense of reality or self-awareness. They start to care about some gossip blogger. I refuse to let them dictate the type of work I'm going to do."
No one disputes that Swift has a gift for hit-making. Her iPhone is full of thousands of voice memos, she tells me. Some are three seconds long, some are 30 seconds and some are "me just riffing for seven minutes, and singing and ad-libbing with my guitar".
"I've never been able to explain where ideas come from," she says. "I have no idea why I wake up in the middle of the night, replaying in my head a melody I've never heard before. It's what keeps the job never feeling like a job. The writing process is what keeps all of this bearable. A lot of chaos surrounds this type of career and I wouldn't be able to handle it if I was just a singer."
Swift has her Nashville roots to thank for that. And her parents. Her mother, a former marketer, and her father, a financial adviser for Merrill Lynch, have been the quiet guiding hand behind her investments, her savvy branding and her squeaky-clean image. She still calls them every day. "They don't want me to become one of those ridiculous tragic stories of some kid who has a huge career and ends up penniless," she says.
The digital revolution has the music industry in a tailspin, but Swift's albums just keep on selling. She might surround herself with smart people, but she is firmly behind the wheel. In the lead-up to the release of 1989, she engineered the "1989 Secret Sessions" – hand-picking fans from their social media feeds and inviting them to her various homes for private listening sessions. Nothing was stolen, nothing leaked.
Word of mouth worked. The album's first single, Shake It Off, debuted at No. 1. "It's much harder to make a platinum album than it used to be," she says. "[People] used to buy 10 albums a year. Now they're buying two. You have to work harder to be one of the two."
Swift says the secret sessions were the most fun she has had in her career. Which begs the question: what else does she do for fun? Her passions are simple: her two cats, Friendsmarathons, baking cookies, buying presents for friends and drinking coffee.
An awkward teen, Swift says she has finally embraced her uncoolness. "I like things that are cosy," she shrugs. "I like fuzzy sweaters, I like cats, I don't go to clubs. Not because I feel I can't, but because I really don't have any interest in being somewhere loud and hectic. I know that it's really in style to be edgy and cool and blasé and unaffected, but I'm none of those things.
"I love going on Tumblr – I have all kinds of inside jokes with my fans on Tumblr," she says. "Sometimes when I'm on the road and I'm really tired, the idea of laying in bed all day is the greatest. Hopefully I'll have a day when I can do that in the next couple of years."
When I suggest to her that this might be unlikely, she smiles sweetly again. "One can hope.
Photo: Universal Music