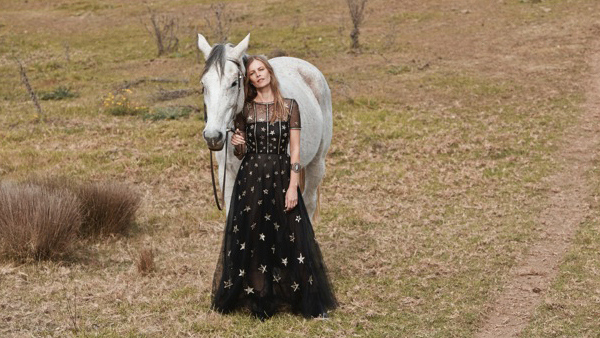 Photo: Trevor King
Sunday Life, The Sun-Herald
July 20, 2014
One of the most sought-after models of the '90s, Emma Balfour is back but wants the quiet life without all the "stuff". She talks to Erin O'Dwyer about trying to make the world a little bit better.
Emma Balfour ushers me into her home, steps around the composting toilet in the hallway, and rummages for some good cups to make tea. Her Bondi bungalow is a study in elegant grunge. Outside, it's painted sea green – the same colour as when she bought it 15 years ago – and a round window in the front room is set with purple glass. Inside, the furniture is vintage and mismatched – pieces she picked up in London a lifetime ago. The dining room table is decorated with homemade pottery and a scrap of white fabric is draped across the window, blocking out the new, ultra-modern development next door.
"I find people in Sydney are very, very greedy," she says. "A lot of this is [partner] Andrew's influence – he's very much a minimalist at heart. But I've always been contrary, I'll always do the opposite to what everyone is doing. I want to try to make the world a little bit better, not a little bit worse."
The composting toilet, she tells me, is bound for the family's beach shack, on the far south coast of NSW. She could move there in a heartbeat, and probably will when her sons – Bruno, 14, and Elliot, 9, both strikingly like their mum – leave school. She wants to build an "Earthship" – a low-carbon house made from recycled car tyres.
"I'm the ultimate stupid hippie," she laughs. "We're not about stuff and symbols. There is a much better way of showing people who you are than what car you drive or what your handbag is. I'm probably blessed because I have boys, but you have to model things properly for them. Kids, especially around these parts, get very enamoured about all that stuff." Advertisement
Two decades ago, Emma made her name modelling stuff. She was one of the new wave of supermodels – heroin-chic icon, friend of Kate Moss, a waifish, dark-eyed suicide blonde.
Even then, she was a nonconformist. As a 20-year-old living in London she was frequently cast as a Claudia Schiffer proxy. She hated having her hair curled, being made to look glamorous and sexy. It didn't suit her sense of herself. Her then-boyfriend, fashion photographer David Sims, suggested she cut her hair. When she came out of the salon as a willowy street urchin, a new look was born. With her ethereal gaze, exquisite bone structure and artful slouch, she was one of the most sought-after models on the planet.
"We were all just mucking about," she once said of the buzz. "We were doing whatever we wanted. It just happened that it clicked."
For years, Emma owned that look. But the drug-taking lifestyle was foreign. "Kate (Moss) used to call me Mother sometimes," she says. "I was always knitting, it kept me sane. I was always the grown-up in the room. I was happy to be that. I enjoyed being around, but doing drugs wasn't me."
Eventually the drug culture got to her. In an interview with a BBC crew doing a story on Kate Moss, Emma unwittingly blew the whistle on the industry. She said on television what no one else would say: that on almost every catwalk there were girls who were sick, either due to heroin abuse or anorexia.
"All these models are being gossiped about, but no one ever stands up and says, 'Hang on a minute, they're dying,' " she told the BBC. "I think heroin is about being part of an elite gang. It makes you feel important."
It was a moment of truth that came to define the era, and Emma herself. But as pop culture's obsession with heroin chic began to wane, Emma opted out altogether. On a modelling trip to Australia in 1999, she met an old flame – photographer Andrew Cowan. The pair had fallen in love as teenagers, in their hometown of Adelaide, but Emma had moved to Sydney and then to London.
"We were mad for each other and it was very strange bumping into him again a very long time later," she says. "And that got me thinking about what could be different. I'd been in London for 10 years and I'd been with the same man there for nine years and it had been falling apart for nine years but neither of us would change it. I thought, 'I'm going to change it up completely.' "
Life in Australia could not be more different. Their bungalow is unrenovated, their backyard is overgrown, and they have chickens, fruit trees and a few hardy vegies. They live a few blocks back from Bondi Beach, where Andrew swims daily and Emma sucks in the sea air. They give a wide berth to the celebrity scene.
For years, Emma's main job was working on greening projects at her sons' school – putting in water tanks, building vegetable gardens. In London, people stared at her in the street. In Sydney, she passes under the radar. She gets around in a Subaru station wagon and jeans and old T-shirts. Her long, honey-blonde hair hangs around her face, she wears no make-up and there are smile lines around her perfect bow mouth. Until recently, her only real foray into the public eye was the release of a volume of deeply personal Raymond Carver-esque poems. She describes it as "a moment of madness".
"The minute I handed it over, I thought 'I'm never going to be able to do that again,' " she says. Ten years on, she's gathering pieces for volume two.
So omnipresent has Emma been for her sons and family that her (other) career has been an irrelevance. Increasingly, though, it's a consternation to Bruno. "At a parent-teacher night, the teacher said to Andrew, 'You're a photographer' and to me, 'You write, don't you?' Bruno had told them that bit about me. Whenever we see a picture of me somewhere, he says, 'Oh God, I can't bear it.' He gets really embarrassed. He said that I'm the most unlikely person to be doing this because in my real life I'm so far from it."
When Emma first returned to Sydney, she didn't even have an agent. But as her boys have grown, she has dipped a toe back in. Just a runway show here, a fashion shoot there. Then last year she went to London for three weeks, "sniffing around". "I never would have left the kids before," she says. "The younger one is stuck to me like glue and he misses me a lot when I'm gone."
This year she's done a runway show for London-based designer Mary Katrantzou, an ad for Swiss label Bally, and a multimillion-dollar Tommy Hilfiger campaign, in the snow, in California. Emma Balfour, supermodel, is back. Well, sort of.
"The '90s are back and that was my era," she shrugs. "People are asking for me, they remember the work I did and they want that kind of association. It adds a bit of cool. It's not particularly to do with me, it's all in their perception and what their perception is of me. It's not all I do, I have a lot more bits and pieces going on. It's nice to be known as someone who is still going. But it's not look-at-me now, razzle-dazzle."
So how does supermum Emma justify modelling's excesses to the sons she is teaching to walk lightly on the planet?
"Bruno has asked me that, absolutely. It's a total contradiction and I can't really answer it," she says. "I do it because it's what I've always done. I need to eat and they need to eat and it's a totally bullshit answer because I can't really justify it. Every time I get paid I think, 'Okay, I can get the composting toilet' or 'I can get the solar panels for the roof.' In my head I try to justify it by at least spending it wisely."
Sometimes, age can be cruel to women. It sits beautifully on Emma Balfour. She's made no attempt to chase eternal youth. Indeed, for someone who always hated modelling and had to be dragged to her first shoot by a photographer friend, fame and fortune seem to have bought her the right to be herself.
"It feels like it's much easier," says Emma, who works once a month, picking and choosing her jobs. "I'll go in they'll say this is what we want and they'll take 10 frames and go, 'Okay.' It makes me feel like, finally, I got good at my job. In the early days I felt exposed, I didn't think I was very good. I spent a long time only just hiding how scared I was. Now I can totally fake it."
For all her natural beauty and off-beat humour, there's an air of sadness to Emma. The writer's unease with the world, perhaps? "I'm a bit of a misery guts," says Emma. It's there in Andrew's intimate family portraits – Emma cutting Elliot's hair in her pyjamas; Emma with scrubbed face staring down the lens, unashamed of her 44-year-old flaws. "I'm not old enough for Andrew yet," she says, only half-joking. "He wants to see my character more; he wants the wisdom written into my face."
She's only a kilo heavier than her London days, but her body feels different after two children. "I feel like I'm bigger than I used to be. My waist is thicker and everything is a bit softer. Occasionally on a job I put things on that don't fit, which feels horrible. A couple of years ago all the samples were like dolls' clothes, it was crazy."
Recently, a pair of jeans made her belly bulge. The crew said they would fix it in post-production. The thought horrified her. "When they retouch me too much, it just doesn't look like me," she says. "The balance will hopefully come as more older women are working and we're allowed to look more like ourselves. Otherwise why bother using us?"
Emma's wayward streak comes from her mother, a dancer who worked as a cook and performance artist with Circus Oz. Emma's parents divorced when she was young (her father Tom was also a photographer) and as a girl Emma toured Britain and the US with her mother and the circus troupe, learning to juggle, horseride, walk the tightrope and ride a unicycle.
Joining the circus might seem like a romantic childhood. But Emma wanted stability for her own family. "You always go against what your parents did; I wanted my kids to have a home that was home. There have been times we've said, 'Let's move to California,' or 'Let's move to Paris.' But Bruno doesn't cope with it and neither does Andrew, to be honest. So we're here and that's been good for everyone."
At the start of our interview, standing in the kitchen chatting, Emma shares a confronting detail: both of her parents have multiple sclerosis. They were both diagnosed at age 50. I ask her about it a few days later. The odds are no greater for her than anyone else. Is diagnosis something she fears?
"I think it used to be, closer to the time they both got diagnosed," she says. "I used to go, 'F… it, when I'm 50 my life will be over.' But I've processed it now and all I can do is think positively. You can't have a model that falls over."
In times of crisis, Emma's black humour shines through. You know if that day comes, she will take it with shoulders squared to the wind. And she'll never be afraid to tell it like it is.
Photography: Trevor King. Fashion editor: Penny McCarthy. Hair: Pete Lennon. Make-up: Gavin Anesbury. Fashion assistant: Thea Roberts-Thomson.  Shot on location at Sydney Horse Riding Centre, sydneyhorseridingcentre.com.