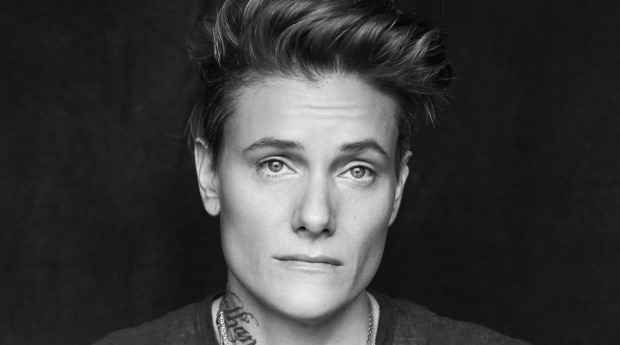 Photo: Steven Chee
Sunday Life, The Sun-Herald
July 12, 2015
Former Olympic swimmer Casey Legler made headlines all over again when she became the first woman to be signed as a male model. ERIN O'DWYER meets her.
Casey Legler comes around the corner looking every bit the tall man. At 1.88 metres and with a lean, sinewy frame, she is used to the sideways glance.
"On good days, it's a second take," says Legler, wearing man-style chinos, white tee and braces. A yellow beanie sits jauntily above her shaved undercut. Her hands, neck, biceps and forearms are tattooed. "I'm 38, I can deal with it. But to bear the constant brunt of that, it's an insidious exhaustion."
Two years ago, the French-born Olympic swimmer became the first woman to sign with an agency as an exclusively male model.
It happened by chance. Her friend, photographer Cass Bird, used her in a photo essay about a street gang called Out with the Boys. But instead of men, Bird used all women, including Victoria's Secret model Candice Swanepoel and androgynous Swedish model Erika Linder. Bird shared the images with an agent at the Ford modelling agency. Legler was signed to their men's board the next day.
To land a major international modelling contract at age 35 is a coup, an instant ticket to fame and fortune. But it's more than that for Legler. She sees her work as political. "At no moment was it special that I was using my body in this way," she says. "I have always used my body in my work; it's never occurred to me not to."
Legler's extraordinary physique has always called the shots. She started swimming competitively in her native France when she was 12. She was offered a scholarship to the University of Arizona and competed for France in the 1996 Olympics in Atlanta. A picture of her freshly shaven head emerging machine-like from the water was beamed around the world.
At 22, she retired. She lost her university scholarship and was set adrift in the world. She took whatever jobs she could get. Bagging groceries. Selling shoes. Concierge at a small hotel.
At 26, she went back to university. She got a scholarship to law school, then switched to medicine, but ultimately finished neither. Finally, she moved to New York and began working full-time as a performance and installation artist.
"I had to get to a point where I could say it's okay for me not to be a doctor or a lawyer," she says. "And that it was okay for me to work in the medium that made my heart sing."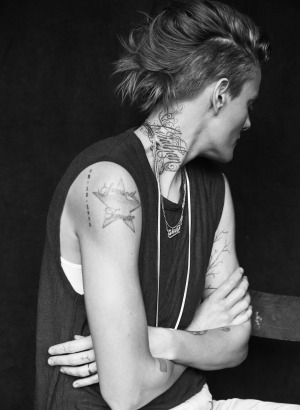 Legler's body is her muse. Her video-stills of her naked body have been exhibited internationally. But life has been tough. Three years ago, she was arrested for posting an image of her breasts on a fence in a vacant block in New York's East Village. She has spent years waiting tables to make ends meet.
"I have had many nights and mornings looking out my window and thinking, 'What have I done?' " says Legler, who grew up in both France and the US and speaks English without a hint of a French accent.
"New York has been good to me but she is fierce and she gives nothing for free. When I hear young kids talk about moving to New York, I'm like, 'Do you have business being there?'
"I have seen her eat up beautiful people. It's not friendly to artists in the way it used to be."
What is less well-known about Legler is her Australian connection. When we meet at a cafe in Sydney's CBD, Legler is finishing up an artist's residency with Artspace in Sydney, and has just been named as an ambassador for Australian designer Jodhi Meares' label The Upside, fronting its "Be You" campaign.
The Australian connection is thanks to her partner, Siri May, a lesbian-rights expert with the Australian Human Rights Commission, whom she met in New York six years ago. The two have juggled their relationship across time zones for the past 12 months and since November, Legler has been living in Sydney's inner west with May.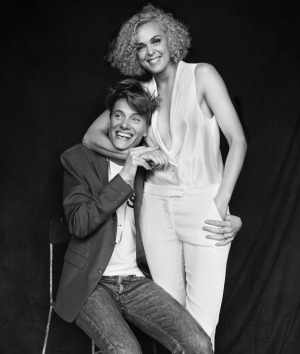 Legler's plans to return to New York are hazy. She has loved being here, and loved being with Siri. Her days have been filled with making art and writing a memoir about her swimming career, due for release next year.
The two women make a striking couple; Siri is the antithesis of Casey in looks – petite and effortlessly pretty, with impeccable cat's-eye make-up and a wardrobe full of '50s-style vintage frocks. Their intellectual connection is obvious. They had spent hours the night before discussing this interview, and agreed to it only because they wanted to be positive role models for other lesbians.
They say gay marriage is a line in the sand for ending discrimination and violence against gays and lesbians. They are deeply concerned about statistics that show 40 per cent of homeless youth in the US are queer.
"We have systemic discrimination at a structural level and that permits discrimination at a social and personal level," says May.
For Legler, coming out was a defining moment. She was 21 when she made her sexuality public. Soon after, following a day of training with her teammates, she sat down for a team dinner. The reaction was crushing. Every one of them stood up and left.
"That moment was so definitive," she says, sobbing as she remembers the incident. "Up until then there was nothing that would have indicated that would happen. I was never ostracised, even though I was so fast I had to train alone, or with the guys."
Not long after she was asked to leave the women's locker room at a major swim meet and directed to the disabled toilet. It was too much. She quit.
These days, Legler wears her sexuality on her sleeve. She talks about "family" and "community", and about the women who are "one of us". She describes being "brought up by drag queens" who not only paved the way for gay rights but also taught her how to "rock a pair of heels". She might look mannish but when she speaks, she is all woman – soft and gentle, with an infectious, impish grin. She is warm and immensely likeable.
Still, Legler is a difficult interview. She records our conversation and sets out the parameters in advance. A PR agent sits a few tables away, keeping a polite but watchful eye over her charge. Legler gives long, detailed answers to my questions. She is eager to be liked. But she does not want to be misunderstood. She thinks deeply about every aspect of her life and her work.
It took her years to come to terms with her love/hate relationship with the pool. She estimates she spent a total of three-and-a-half years in the water. By the time she realised she hated swimming, it had taken on a life of its own. "I will never forget for my entire life that first moment in the water and the iceline that goes down your body," she says.
Legler was a gifted freestyler and dedicated to her training. But as an athlete, she "left a lot to be desired".
She had a strong urge to sit by the pool, in something soft and pink, reading a book. She desperately wanted her coach, a watercolour painter, to talk to her about the way the light hit the pool.
"The light in Arizona is magnanimous," she says. "But he was like, 'Can you just turn off your brain for a moment and swim?' " She credits swimming with keeping her from the dark places and dangerous lifestyles she might otherwise have ventured into. And it taught her a rigour, focus and work ethic that has become part of her life. "Swimming saved my life," she says.
Art became a way of relearning her identity. When modelling came along, Legler saw it as a continuation of her art. What is important, she says, is that she maintains her own "agency".
"My own practice as an artist had to remain concurrent within all these editorial shoots that were occurring," she says. "How does one maintain agency, not only with that process, but once the image has been made and is being exhibited?"
The world of fashion has no time for "agency". Legler found herself challenging art directors who, once they saw her, decided to push the gender boundaries – asking her to pose in tight jackets, lipstick and heels, in addition to the usual men's attire.
"Once I showed up on set, no one understood that I was just going to wear men's clothes," she says. "[I had to say] That's what you've hired me for and that's what I am going to do, and it will be okay and nothing bad will happen. If you want me to look like the girl next door, I have been miscast.
"I did have those moments where I thought, 'I can either take this on or comply,' " she says. "But my integrity is everything. I deeply understood that this had nothing to do with fashion or even me. I was the only one who was going to be able to make this better for whoever might come up behind me."
Legler's fashion shoots are dark, bold, confronting. She has been photographed by noted fashion photographer Mario Testino alongside Bosnian-Australian transgender model Andreja Pejic. She has appeared in American Vogue and Paris Vogue, and in Time magazine and The Guardian.
Jodhi Meares describes Legler as a game-changing model and had Legler photographed for The Upside's latest campaign on the streets of Sydney, in a vintage car, with her head thrown back.
"We wanted to explore different ideas of femininity and Casey is a beautiful and unique woman," Meares says. "She is unquestionably herself."
As a girl, Legler struggled to find role models. "Forget about being a lesbian, I didn't even see people who looked like me," she laughs.
Eventually, she found them, in the stories of Katharine Hepburn and Greta Garbo. Legler sees herself "of that lineage". If she has to wear men's suits for her living, so be it.
The message will get through to those who need it.
"That some kid might be able to find some comfort in seeing me, that's a nice idea," she says.