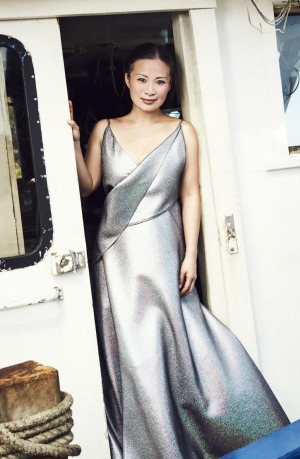 Photo: Damian Bennett
Sunday Life, The Sun-Herald
May 1, 2016
From food show finalist to cook extraordinaire and now restaurateur, Poh Ling Yeow puts her success down to passion and hard work. She talks to Erin O'Dwyer.
Ask Poh Ling Yeow what it takes to make it as a reality television star and she'll tell you straight: entrepreneurial spirit and sheer hard work.
"People think they're going to get a publishing deal or radio gig," says the 43-year-old celebrity cook. "The infrastructure when you are on a show like that is incredible. It's like a life-support system, but then it's gone. You only have a very small window of opportunity before everybody moves on."
When we meet for a late lunch at Sydney seafood restaurant The Boathouse, Poh has been up since dawn and she's hungry. We order starters to share: roast king prawns from Yamba with tarragon and cider butter; sashimi of Eden yellowfin tuna with brassicas and wasabi; and vine-ripened tomatoes with deep-fried saltbush and a side of burrata. It's the first time I've eaten burrata but it's Poh's favourite. "Mozzarella cheese with cream inside," she explains excitedly.
It's been seven years since Poh last ate here – in mid-2009, halfway through the first season of MasterChef, when the show's producers took the contestants out for their first, rare night off. She pauses for a moment, looking out across Blackwattle Bay.
"We came out onto the street and people knew us," she recalls. "We were totally shocked, we didn't know what was going on. We were in this insular bubble and unaware of the waves that MasterChef was causing on TV."
Even then, few could have predicted the sensation to follow. More than 3.7 million Australians tuned in to watch the show's first finale, transfixed as gracious crowd-pleaser Poh Ling Yeow was named runner-up behind mother-of-three Julie Goodwin, from the NSW Central Coast. MasterChef, which kicks off its eighth season tonight, went on to become the most watched series in Australian television history, .
Poh Ling Yeow is one of the show's most successful exports. There have been three seasons of Poh's Kitchen on ABC TV and two cookbooks. In January, she appeared in a new cooking series, Poh & Co, for SBS.
Part cooking show, part reality video blog, Poh & Co's first season followed Poh and her husband Jono Bennett as they transformed the shambolic backyard of their Adelaide home into an edible garden, and launched a market stall at the iconic Adelaide Central Markets. The second season, which starts on May 19, chronicles the opening of Poh's first cafe at the markets.
The new cafe is called Jamface by Poh and she has had a hand in everything from creating and painting the logo and signage to the bohemian lighting fashioned from hanging bulbs and vintage glass bottles. The cafe does a quirky line of sweets and savouries: caramelised pear, pork and cabbage pies; French cream tarts with custard base; bacon and egg sandwiches with parmesan and thyme crust.
"Before I went on MasterChef, my big food plan was to have a little patisserie making jams," Poh says. "And when I came out of MasterChef, that was also my plan. I find it quite interesting that pretty much all the things I imagined from a very young age have happened. There's a sense of, like, you can't run away from your original sensibilities. They define you from a very young age."
Plans for the cafe and its offbeat recipes have been simmering away in Poh's mind since she was at university, in cahoots with her best friend and business partner Sarah Rich. Sarah comes from French stock and, after they met, began baking sweet treats for her friend.
"Baking is my first love," says Poh. "That's where it started, with Sarah. There's a certain amount of satisfaction in trusting completely in your recipe."
Until a month ago, Poh and Sarah did all the prepping, planning and pastry rolling for Jamface. It took two years – and one rejected application – before the Adelaide Markets would accept their cafe proposal. It finally opened in December and they've only just taken on in-house chefs. The business, says Poh, is yet to turn a profit.
"It's all real, you know," she says. "Most people tend to think everything is a bit fairy-dusted when you're on TV. But it's just the same. I had to go to the bank, take out a loan. You know, it's really scary."
Food runs in Poh's blood, too. Born in Malaysia, she migrated to Adelaide from Kuala Lumpur with her parents and brother when she was nine. Her great aunt Kim Thoo lived with the family, and she and Poh's mother, Christina, cooked together, preparing traditional Malaysian dishes: asam laksa, hokkien noodle stir-fry, and Hainanese chicken rice.
Poh forged a career as a visual artist, working in acrylics, and also as a celebrity make-up artist. In her 20s, she dropped her Anglicised name, Sharon. Then, in her early 30s, she began to reconnect with her culinary heritage.
"I was starting to lose a grip on my culture and food was a really strong avenue for me to harness it again," she says. "Without actually being an amazing cook, I had a lot of really interesting flavours etched into my memory of my palate. That's what got me through MasterChef. I remembered the flavours and that's what I tried to recreate."
In 2005, she appeared on ABC's Beat the Chef, cooking ying yang prawns with her aunty Kim.
"I really wanted to write recipes," she says, "but if you're a nobody no one cares to buy your book. I was spending so much time obsessing over menus and ingredients. I was writing recipes and planning menus for a place I never owned. I needed an avenue to express it but I wasn't sure what."
Along came MasterChef. By then, Poh was 35 and a successful artist, represented by prestigious galleries in Melbourne and Adelaide. But a career in food haunted her and she knew she needed her 15 minutes of fame. She never expected to go all the way.
"Most people thought at best they were going to get an apprenticeship at the end of MasterChef," she says. "No one dared think there was anything else behind it and, of course, no one knew it would turn into this absolute phenomenon."
When it comes to pulling a television audience, Poh has the Midas touch. Ratings-wise, in 2015 she was the most successful of all SBS's television cooks: a star-studded line-up that includes Heston Blumenthal, Maeve O'Meara, Luke Nguyen and Adam Liaw. But when I ask Poh about this fact, she is blissfully unaware. She attributes her success to hard work.
"It's not uncommon for me to pull 20-hour days for weeks on end without a day off," she says. "For a while I was waking up at four in the morning to get to the cafe to prepare all the pastries.
I'd work until 6pm, then come home and write recipes for my book. You feel like the carpet might be pulled out from under you at any point. You feel obliged to do everything that gets offered to you."
In Poh & Co, Poh's personal life plays out in front of the camera. The "Co" is Poh's husband Jono, her "bestie" Sarah Rich, and her ex-husband and manager Matt Phipps. Oh, and she met Jono on the set of MasterChef, and Sarah and Matt are now married.
The unconventional arrangement created a storm in a media teacup when Poh & Co first screened in January. But for the four long-time chums, it's old news. Sarah and Poh have been best friends since university. Matt and Poh married young – in part to ease themselves out of the Mormon Church, in which they both grew up – but quarrelled as partners and separated in their early 30s. Poh was single when she met Jono, a runner on the MasterChef set. And, she acknowledges matter-of-factly, Sarah and Matt always had a connection.
"What's really funny is the media likes to turn it into something salacious," she says. "And it's just not. We dealt with it at the time and we all function really well together. There's no real mystery to it and we try to treat it as normally as we can."
Our food arrives and Poh plasters a grainy hunk of bread with butter. She doesn't give a fig about her image or conforming to any preconceived notions of celebrity. Not a single stylist was employed in the making of Poh & Co.
"You'll notice that the fashion is terrible," she laughs. "I literally wear what I'm going to garden in, or whatever I woke up in."
Today, Poh is dressed in black jeans, white tee and a flowing denim overshirt. In her ears are two mismatched sterling silver earrings. She recalls watching the final cut of Poh & Co and being surprised to see the same yellow jumper in nearly every scene.
"And then people see me in the shops wearing the same outfit," she says, laughing. "Embarrassing!"
She and Jono married two years ago in Tasmania, in a small ceremony under a tree on his parents' property. His mother was suffering from terminal cancer and it was something Poh did for Jono, and for his family. The couple have bought a piece of ebony to mark the occasion, from which they plan to carve two wedding rings. "We haven't got around to it yet," Poh grins. "We have to be careful not to confuse it with firewood and put the whole piece into the fire."
Children are still on the cards and Poh admits she is in the "emergency zone". Either way, she is at peace.
"I just have this weird blind faith with life, and things always seem to work out," she says. "I stress about immediate things but not about the future. I just don't stress too much." •